"Symphonic Poem – »Kossuth« – Béla Bartók (1881)", Hallé Concert Society Saison 1903–04 (Manchester, Free Trade Hall, program booklet of the 18 Ferbruary1904 concert), 506–511.
Collected edition: BÖI, 767–773; DocB/1, 70–73; Essays, 399–403; BBI/1, 41–47.
Further version: Kossuth. Szinfóniai költemény
Source: BBA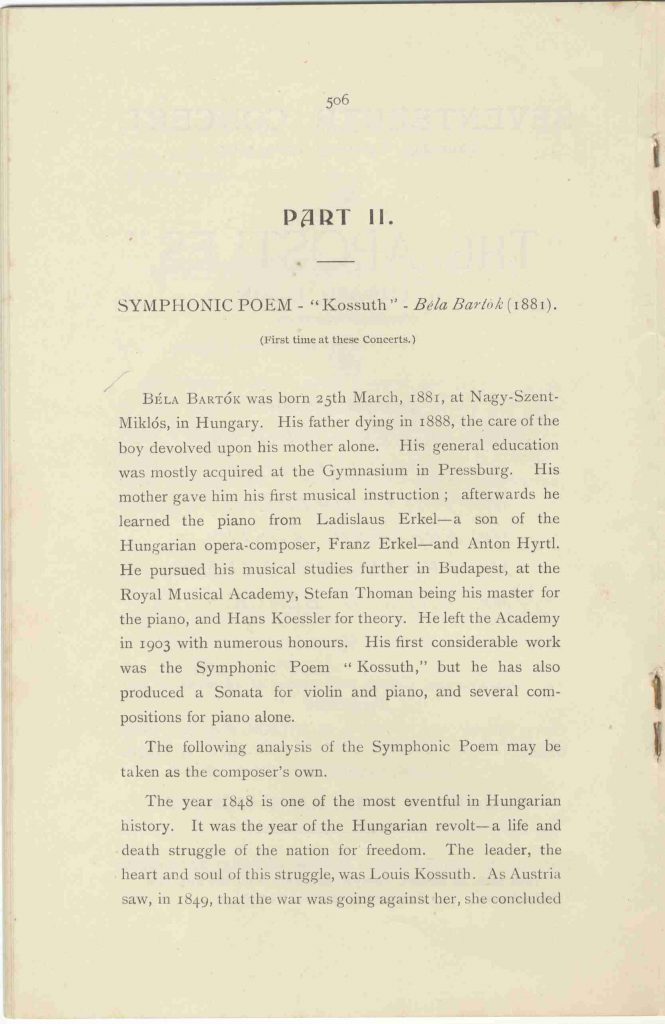 506
PART II.
SYMPHONIC POEM – "Kossuth " – Béla Bartók (1881).
(First time at these Concerts.)
Béla Bartók was born 25th March, 1881, at Nagy-Szent- Miklós, in Hungary. His father dying in 1888, the care of the boy devolved upon his mother alone. His general education was mostly acquired at the Gymnasium in Pressburg. His mother gave him his first musical instruction ; afterwards he learned the piano from Ladislaus Erkel-—a son of the Hungarian opera-composer, Franz Erkel—and Anton Hyrtl. He pursued his musical studies further in Budapest, at the Royal Musical Academy, Stefan Thoman being his master for the piano, and Hans Koessler for theory. He left the Academy in 1903 with numerous honours. His first considerable work was the Symphonic Poem "Kossuth," but he has also produced a Sonata for violin and piano, and several compositions for piano alone.
The following analysis of the Symphonic Poem may be taken as the composer's own.
The year 1848 is one of the most eventful in Hungarian history. It was the year of the Hungarian revolt—a life and death struggle of the nation for freedom. The leader, the heart and soul of this struggle, was Louis Kossuth. As Austria saw, in 1849, that the war was going against her, she concluded
507
an alliance with Russia. A crushing blow was inflicted upon the Hungarian Army, and the hope of an independent Hungarian kingdom was shattered—apparently for ever. These events serve as the poetic basis to the Symphonic Poem, which may be considered as falling under twelve heads :—
I.—"Kossuth." Delineating the character of the hero—
No 1b.
II.—"What sorrow lies so heavily on thy heart?" Kossuth's wife, his faithful companion, sees the trouble written on her husband's countenance. Kossuth tries to pacify her
508
mind, but he is no longer capable of dissembling his profound sadness—
Bass Clar.
III.—" Danger threatens the fatherland.'' He loses himself in sorrowful recollections of the glorious days, now vanished, of his nation—
IV.—" A better fate then was ours."—
No. 4.
509
V.—"Yet this brief-lived happiness soon disappeared." The theme depicts the servitude which regards no laws and which no freedom alleviates—
With the words :
VI.—"To the battlefield!" Kossuth tears himself away from these thoughts. He is resolved to win back by fighting his natural right to freedom—
No. 6.
VII.—" Come, oh come, ye haughty warriors, ye valiant heroes ! "—Kossuth's summons to the Hungarian nation to
fly to arms—
'Cello & Contra Bass, ff
The Hero-theme appears (F minor)—
pp
Kossuth repeats his inspiriting call to the assembled hosts. The Army swears a solemn oath—
Trumpets & Trombones.
Some moments of fateful silence :
VIII.—Then is heard the sound of the enemy's host, approaching nearer and nearer. It is characterized by the motive of the Austrian hymn—
510
The armies join in battle—
Assault after assault is made. At last the superior numbers of the enemy triumph. The catastrophe comes (fff on tympani and tam-tam). Only a few of the Hungarians, who have survived the conflict, fly before the vengeance of the victors.
IX.—All is finished. Hungary lies in deepest woe, in deepest mourning—
No. 9.
X.—A hopeless silence reigns.
5 11