"Hungary in the Throes of Reaction", Musical Courier, LXXX/18 (1920. április 29), 42–43.
Gyűjteményes kiadás: DocB/5, 33–42.
Forrás: BBA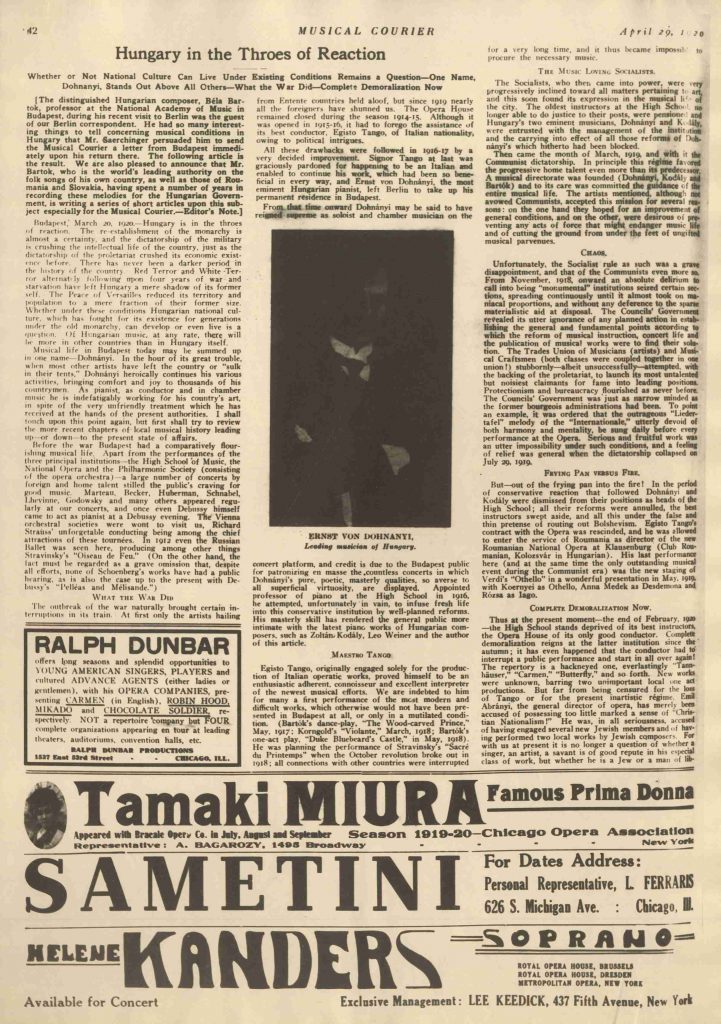 Hungary in the Throes of Reaction
Whether or Not National Culture Can Live Under Existing Conditions Remains a Question—One Name, Dohnanyi, Stands Out Above All Others—What the War Did—Complete Demoralisation Now
[The distinguished Hungarian composer, Bela Bar- tok, professor at the National Academy of Music in Budapest, during his recent visit to Berlin was the guest of our Berlin correspondent. He had so many interesting things to tell concerning musical conditions in Hungary that Mr. Saerchinger persuaded him to send the Musical Courier a letter from Budapest immediately upon his return there. The following article is the result. We are also pleased to announce that Mr. Bartok, who is the world's leading authority on the folk songs of his own country, as well as those of Rou- mania and Slovakia, having spent a number of years in recording these melodies for the Hungarian Government, is writing a series of short articles upon this subject especially for the Musical Courier.—Editor's Note.]
Budapest,* March 20, 1920- Hungary is in the throes of reaction. The re-establishment of the monarchy is almost a certainty, and the dictatorship of the military
crushing the intellectual life of the country, just as the dictatorship of the proletariat crushed its economic existence before. There has never been a darker period in the history of the country Red Terror and- White -Terror alternately following upon four years of war and starvation have left Hungary a mere shadow of its former self. The Peace of Versailles reduced its territory and population to a mere fraction of their former size. Whether under these conditions Hungarian national culture, which has fought for its existence for generations under the old monarchy, can develop or even live is a question. Of Hungarian music, at any rate, there will he more in other countries than in Hungary itself.
Musical life in Budapest today may be summed up in one name Dohnányi. In the hour of its great trouble, when most other artists have left the country or "sulk in their tents." Dohnányi heroically continues his various activities, bringing comfort and joy to thousands of his countrymen. As pianist, as conductor and in chamber music he is indefatigably working for his country's art. in spite of the very unfriendly treatment which he has received at the hands of the present authorities. I shall touch upon this point again, but first shall try to review the more recent chapters of local musical history leading up—or down—to the present state of affairs.
Before the war Budapest had a comparatively flourishing musical life. Apart from the performances of the three principal institutions -the High School of Music, the National Opera and the Philharmonic Society (consisting of the opera orchestra) a large number of concerts by foreign and home talent stilled the public's craving for good music. Marteau, Becker, Huberman, Schnabel, Lhevinne, Godowsky and many others appeared regularly at our concerts, and once even Debussy himself came to act as pianist at a Debussy evening. The Vienna orchestral societies were wont to visit us, Richard Strauss' unforgetable conducting being among the chief attractions of these tournees. In 1912 even the Russian Ballet was seen here, producing among other things Stravinsky's "Oiseau de Feu." (On the other hand, the fact must be regarded as a grave omission that, despite all efforts, none of Schoenberg's works have had a public hearing, as is also the case up to the present with Debussy's "Pelleas and Melisande.")
What the War Did
The outbreak of the war naturally brought certain interruptions in its train At first only the artists hailing
from Entente countries held aloof, but since 1919 nearly all the foreigners have shunned us. The Opera House remained closed during the season 1914-15. Although it was opened in 1915-16. it had to forego the assistance of its best conductor, Egisto Tango, of Italian nationality, owing to political intrigues. All these drawbacks were followed in 1916-17 by a very decided improvement. Signor Tango at last was graciously pardoned for happening to be an Italian and enabled to continue his work, which had been so beneficial in every way, and Ernst von Dohnanyi, the most eminent Hungarian pianist, left Berlin to take up his permanent residence in Budapest. From, that time onward Dohnanyi may be said to have reigned supreme as soloist and chamber musician on the ERNST VON DOHNANYI, Leading musician of Hungary. concert platform, and credit is due to the Budapest public for patronizing en masse the .countless concerts in which Dohnanyi's pure, poetic, masterly qualities, so averse to all superficial virtuosity, are displayed. Appointed professor of piano at the High School in 1916, he attempted, unfortunately in vain, to infuse fresh life into this conservative institution by well-planned reforms. His masterly skill has rendered the general public more intimate with the latest piano works of Hungarian composers, such as Zoltan, Kodaly, Leo Weiner and the author of this article. Maestro Tango Egisto Tango, originally engaged solely for the production of Italian operatic works, proved himself to be an enthusiastic adherent, connoisseur and excellent interpreter of the newest musical efforts. We are indebted to him for many a first performance of the most modern and difficult works, which otherwise would not have been presented in Budapest at all, or only in a mutilated condition. (Bartok's dance-play. "The Wood-carved Prince." May. 1917: Korngold's "Violante," March, 1918; Bartok's one-act play. "Duke Bluebeard's Castle," in May, 1918). He was planning the performance of Stravinsky's "Sacre du Printemps" when the October revolution broke out in 1918; all connections with other countries were interrupted for a very long time, and it thus became impossible to procure the necessary music. The Music Loving Socialists. The Socialists, who then came into power, were very progressively inclined toward all matters pertaining to art, and this soon found its expression in the musical life of the city. The oldest instructors at the High School, no longer able to do justice to their posts, were pensioned and Hungary's two eminent musicians, Dohnanyi and Kodály, were entrusted with the management of the institution and the carrying into effect of all those reforms of Dohnanyi's which hitherto had been blocked. Then came the month of March. 1919. and with it the Communist dictatorship. In principle this regime favored the progressive home talent even more than its predecessor. A musical directorate was founded (Dohnányi. Kodály. and Bartok) and to its care was committed the guidance of the entire musical life. The artists mentioned, although not avowed Communists, accepted this mission for several reasons: on the one hand they hoped for an improvement of general conditions, and on the other, were desirous of preventing any acts of force that might endanger music life and of cutting the ground from under the feet of ungifted musical parvenues. Chaos. Unfortunately, the Socialist rule as such was a grave disappointment, and that of the Communists even more 9 From November. 1918. onward an absolute delirium to call into being "monumental" institutions seized certain sections, spreading continuously until it almost took 0n maniacal proportions, and without any deference to the sparse materialistic aid at disposal. The Councils' Government revealed its otter ignorance of any planned action in establishing the general and fundamental points according to which the reform of musical instruction, concert life and the publication of musical works were to find their notation. The Trades Union of Musicians (artists) and Musical Craftsmen (both classes were coupled together in one union!) stubbornly—albeit unsuccessfully—attempted, with the hacking of the proletariat, to launch its most untalented but noisiest claimants for fame into leading positions. Protectionism and bureaucracy flourished as never before. The Councils' Government was just as narrow minded as the former bourgeois administrations had been. To point an example, it was ordered that the outrageous "Lieder- tafel" melody of the "Internationale," utterly devoid of both harmony and mentality, be sung daily before every performance at the Opera. Serious and fruitful work was an utter impossibility under such conditions, and a feeling of relief was general when the dictatorship collapsed on July 29. 1919.
Frying Pan viasus Fue.
But—out of the frying pan into the fire! In the period of conservative reaction that followed Dohnanyi and Kodaly were dismissed from their positions as heads of the High School; all their reforms were annulled, the best instructors swept aside, and all this under the false and thin pretense of routing out Bolshevism. Egisto Tango's contract with the Opera was rescinded, and he was allowed to enter the service of Roumania as director of the new Roumanian National Opera at Klausenburg (Club Roumanian, Kolozsvar in Hungarian). His last performance here (and at the same time the only outstanding musical event during the Communist era) was the new staging of Verdi's "Othello" in a wonderful presentation in May. 1919< with Koemyei as Othello, Anna Medek as Desdemona and Rozsa as Iago.
Complete Demoralization Now.
Thus at the present moment—the end of February. 1920the High School stands deprived of its best instructors, the Opera House of its only good conductor. Complete demoralization reigns at the latter institution since the autumn; it has even happened that the conductor had to interrupt a public performance and start in all over again! The repertory is a hackneyed one, everlastingly Tann- häuser," "Carmen," "Butterfly," and so forth. New works were unknown, barring two unimportant local one act productions. But far from being censured for the loss of Tango or for the present inartistic regime. Emil Ábrányi, the general director of opera, has merely been accused of possessing too little marked a sense of 'Christian Nationalism!" He was, in all seriousness, accused of having engaged several new Jewish members and of having performed two local works by Jewish composers. For with us at present it is no longer a question of whether a singer, an artist, a savant is of good repute in his especial class of work, but whether he is a Jew or a man of liberal
tendencies. For these two sections of humanity are to be excluded so far as possible from all public activity. What DohnÁnyi Is Doing.
Sufficient credit, therefore, cannot be given to Dohnányi for remaining at Budapest in spite of the treatment meted out to him. His achievement as pianist and as conduc- tor of the Philharmonic concerts (since 1919) are, plainly stated inestimable. He excels as conductor; his orchestral programs contain, besides the usual older works, more modern compositions, such as those of Scriabine, Richard Strauss, Debussy ("Le mer"), etc. True, his musical tastes are not modern enough to sympathize with Schoenberg's or Stravinsky's later works, which are consequently not given. In his capacity as pianist he is the public idol, and his concerts alone are crowded to excess, despite all traffic and other difficulties. He never tires in his efforts to further the musical welfare of the country; his solo recitals are hardly to be numbered. Together with the Waldbauer-Kerpely Quartet Society, he presents chamber music works and conducts on an average two or three orchestral performances a month. How often, the concert over, must he walk a weary hour or so home through all the rain and snow! For the electric cars only ply until 8 30 p. m., and cabs are most difficult to obtain.
The activity of other eminent musicians has been entirely paralyzed. All desire on their part to visit Hungary has been banished by the conditions described above. They have our impoverished and looted country severely alone. so that musical life at Budapest, as stated above, may at the moment be summed up in a singe name—the name of Ernst von Dohnányi. Bela Bartok.